REVIEW: Green Mountain CBD Capsules Not Very Effective for Anxiety or Insomnia
Note: Unfamiliar with CBD? Click here for a quick overview. Not sure which CBD vendor to buy from? For more vendor reviews, click here!
My Experience: Green Mountain CBD Capsules
Vermont-based Green Mountain CBD touts whole plant CBD extract that is lab tested for quality and consistency. They are a vetted vendor per r/CBD and sell their product in capsule form and as an edible salve. This review covers their capsules.
What I Purchased: 20mg Green Mountain CBD Capsules
Product Description: Made from organically farmed Vermont hemp. Extracted with organic coconut oil. Whole plant extract.
Total Cost: $30 USD + $3.49 shipping
Delivery: 3 days from order to delivery
Dosage: Suggested use of 1 capsule every 4-6 hours
Overall Experience
I had high hopes for Green Mountain CBD, as many users from r/CBD seem to passionately advocate for their products. Despite the success stories, I didn't have too great of an experience.
Haziness and headaches
At the start, I knew 20mg would likely be too strong for me, but decided to try it anyway. I was right. One capsule put me in a hazy headspace, where I found difficulty concentrating on cognitively demanding tasks. This spacey feeling may be due to the entourage effect, since the CBD is whole plant extract. However, Altus Labs CBD tablets are likely whole plant as well, and I didn't experience haziness with their excellent product.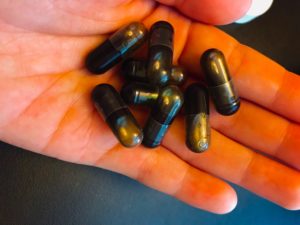 I tried breaking out the pre-packaged 20mg dose into smaller amounts, but this was nearly impossible due to design. Each capsule contained a green oil substance smelling much like something Cannabis and coconut oil would give birth too. Since it's oil, the CBD was difficult to wash away. While opening and closing the capsules, my hands would inevitably get very oily, making everything I touched afterward oily, leaving a cannabis + coconut-y smell as well.
Because some oil inevitably escaped when tampering, I was never confident with how much I was actually taking, so the results were very mixed when trying to ration. I tried refrigerating the capsules to solidify the oil, as a possible solution, but the capsules would break when squeezing out the CBD and the oil would lose some of its form, making it still difficult to gauge the amount taken. This also wasn't practical for on-the-go consumption, which is crucial for me because I prefer to take CBD as needed.
Green Mountain CBD also gave me tension headaches, something I haven't experienced with any other online CBD vendor (e.g. NuLeaf Naturals). Even at lower doses, the weird headache sensation persisted.
Anxiety and insomnia relief: Not very effective
With Green Mountain CBD, my anxiety wasn't so much abated as it was masked by the fatigued confusion I felt. That is, I felt too sleepy and hazy to feel any extreme anxiety. I wouldn't call it "relief,"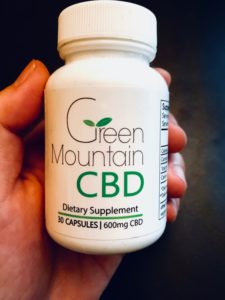 since it wasn't very comfortable. It was more like the nagging hazy sleepiness and headaches took precedence over any nagging anxieties.
As for insomnia, I didn't encounter any relief. It sounds paradoxical, but Green Mountain CBD felt activating when I tried to sleep after taking before bed. The expected fatigue and sleepiness was there, but I couldn't fall asleep. I actually think the CBD made me stay up longer than had I not taken any. Unlike my experience with NuLeaf Naturals, I didn't feel any relief from sleep anxiety either–just frustration for being stuck in a tired limbo between consciousness and subconsciousness.
Novel and pleasant taste
Taste-wise, Green Mountain CBD knocked it out of the park. The pleasant coconut flavor masked the somewhat unpleasant earthy taste of typical Cannabidiol products. The oily-ness was a bit gross, but coconut was definitely a refreshing change in flavor.
Green Mountain CBD Capsules: Pros and Cons
Pros
Pretty good taste, compared to other CBD oils
Cons
Spacey, hazy headspace
Fatigue and concentration issues
Inability to break 20mg into smaller defined doses
Little anxiety relief
No insomnia relief
No sleep anxiety relief
Final Thoughts
Despite many rave online reviews, Green Mountain CBD didn't work well for me in many departments. At $30 a bottle, it may be worth trying, but you've been warned!
Please subscribe!
If you enjoy our content, please consider subscribing to our site via the form in the bottom footer of this page or the top of the left sidebar. We really appreciate your support and engagement, and value any feedback immensely. If you subscribe, you will be notified once a new review is published. No spam. We promise.
JUDGMENT TIME
Efficacy (Anxiety)

Efficacy (Insomnia)

Consistency of Results

Taste
Summary
Despite a plethora of great online reviews, we didn't find Green Mountain CBD effective for anxiety or insomnia relief.
If you've also tried CBD from Green Mountain CBD, submit a rating below or comment!