NuLeaf Naturals CBD Review: Red Eyes and Sluggishness
Note: Unfamiliar with CBD? Click here for a quick overview. Not sure which CBD vendor to buy from? For more vendor reviews, click here!
My Experience with NuLeaf Naturals Vendor
On my quest to try all things CBD, I came across vetted vendor NuLeaf Naturals through r/CBD. My hopes were high as I awaited the package to arrive. One review on Reddit had me particularly excited–the user reported overall general satisfaction.
What I Purchased: High Grade CBD Oil, Max CBD Hemp Oil 240mg (50mg/ml)
Product Description: .17 fl oz bottle, 1 drop = ~2.4mg CBD
Total Cost: $38.50 USD
Delivery: Extremely quick turnaround time. My package arrived in 3 days, and shipping was $0 too! That much I was impressed with. The rest, not so much…
Dosage: The package came with a paper stating most customers found 10-20 drops to be an effective dose, but that optimal dose would vary by user. I'm one of those varied users (see Overall Experience below).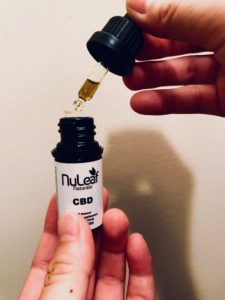 Overall Experience
Knowing that I'm quite sensitive to supplements in general, I started out with 5 drops around 8 pm. 5 drops proved to be too much–after about 10 minutes my eyes became red and I felt extremely off. I had planned to get some work done before bed, but sluggishness began to settle in and as the CBD reached peak effect, the brain fog became more apparent and I felt unable to do anything productive besides read and watch YouTube videos. I noticed a decrease in anxious thoughts, but that desirable effect was offset by the unease I felt about not being able to do work.
After the initial test of 5 drops, I tried varied doses. I found my sweet spot to be around 1-2 drops, paired with some caffeine (if taken during the day). I'd re-dose every 2-4 hours-ish, if needed. With 1-2 drops, I was able to focus and work without the caffeine exacerbating my anxiety. However, the red, dry eyes persisted, and proved to be very uncomfortable. I found myself constantly reaching for eyedrops every hour or so, which didn't really abate the issue very much. Note that I suffer from dry eyes in general, but I usually don't use eyedrops, or if I do, I only need it 1-2 times a day.
As for insomnia relief, NuLeaf Naturals CBD didn't really help in that arena. There was definitely a relaxation effect where I felt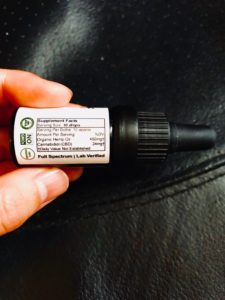 less aggravated about not being able to fall asleep, but no significant effect in helping me actually fall asleep.
Taste-wise, the tincture wasn't too bad (but it wasn't delicious). It was a bit bitter with earthy Cannabis notes. NuLeaf Naturals recommends "holding your preferred dose under the tongue for 60 seconds before swallowing, to experience the dose's full effects."
NuLeaf Naturals CBD: Positive and Negative
Positive Effects
Dampened anxiety
Decreased sleep anxiety
Relaxation
Negative Effects
Red eyes, at all dosages
Dry eyes, at all dosages
General fatigue and sluggishness
Brain fog, at high dosages
Final Thoughts
Overall, the negatives outweighed the positives for me. Given that some users have reported more positive effects, I still think NuLeaf Naturals CBD is worth a try. Buy here!
Please subscribe!
If you enjoy our content, please consider subscribing to our site via the form in the bottom footer of this page or the top of the left sidebar. We really appreciate your support and engagement, and value any feedback immensely. If you subscribe, you will be notified once a new review is published. No spam. We promise.
JUDGMENT TIME
Efficacy (Anxiety)

Efficacy (Insomnia)

Consistency of Results

Taste
Summary
NuLeaf Naturals seems effective for anxiety but not for insomnia.
If you've also tried CBD from NuLeaf Naturals, submit a rating below or comment!