Plated Review: From Shark Tank to Your Kitchen
Never Heard of Plated Before?
I'll have YouTube do the explaining:
Gripping wasn't it? Your curiosity is piqued, no?
Plated is incredibly convenient
I purchased Plated after getting retargeted over and over again on Facebook (good job Plated marketing team).  At the time, they were offering a "Buy 2 Get 4 Plates Free" deal, and as of the time of this post, they are still offering this steal of a deal to first time customers.  It comes out to around $6-7 per dish, and around $3 per plate (each dish contains two "plates," which is pretty much synonymous with "servings").  The dishes I ordered were 1) Tilapia with Barley Salad 2) Dashi with Soba and Eggs and 3) Quail with Quince and Smashed Potatoes.  This particular post will talk about the last of the three: the Quail Plate.
The ingredients for my Quail with Quince and Smashed Potatoes and other dishes arrived about 2 days after I ordered, which is pretty speedy considering how large the package was.  I'd venture to guess the entire bundle weighed close to 10 pounds, taking into account the large ice packs that were included in order to keep the meat fresh.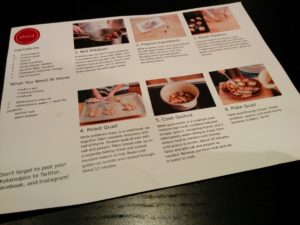 Everything was packed in an orderly manner.  Each ingredient was separated in its proper amount by plastic bags and properly labeled.  Really, it was so easy to discern which ingredients went with which dish.  A quick and easy recipe for the Quail dish (and other dishes) also came along with the package.  It was simple to follow along with, as long as I gave it a read-through before starting to cook.  Trust me, this helps immensely.
Onto the cooking
First, I chopped up all the herbs 'n' shit.  Rosemary and thyme came with the Quail dish: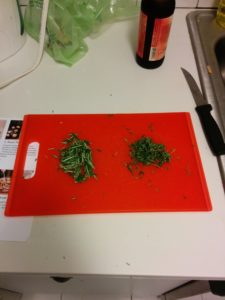 Next, I seasoned the potatoes and threw them in the oven (no picture available, unfortunately).
Then, I cleaned the Quail and seasoned each one with a mix of dijon mustard, rosemary, and thyme:
Finally, I cubed the quince and boiled them with balsamic vinegar, salt, and pepper: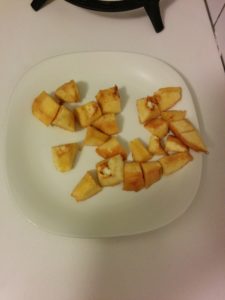 Around the 40 minute mark, I had a perfectly cooked dinner:
My considerations
Superb Shipping Standards: Worthy of note is the fact that, on the day my ingredients arrived, I didn't make it back to the apartment until midnight-ish.  This means the raw package was sitting out for most of the entire day sans refrigeration.  For obvious reasons, this worried me, but everything came out fine when it came to cooking time.
Fresh Ingredients: Plated only provides locally farmed meats with no added hormones, farm-raised and sustainable sourced fish, and the freshest of vegetables!  I felt as if I could really taste the difference in quality with the ingredients I received.  Placebo alert.
Healthy & Perfect Portions: For me, each plate served the perfect amount.  I was left utterly content at the end of each meal; just full enough and not about to burst out of my pantaloons.
Rip-Off, Yet Worth It: To be perfectly straightforward, I couldn't shake the feeling that I knew I wasn't getting my money's worth of ingredients.  After completing my first plate, however, I concluded that it was simply just a trade off between convenience and getting my money's worth.  The convenience of not having to measure out each ingredient was well worth getting ripped of a little.  In any case, what successful company isn't ripping off their customers with huge margins?
Delicious Fancy Meals: A large part of why I've come to love Plated is because each plate is chef-inspired.  What's more, the menu to choose from changes each week with new dishes.  This means Plated plates are great for dates if one needs to impress, and one can order them over and over again without growing tired of the flavors.  It's great.
Outstanding Marketing/PR Team: Plated is really on point with their marketing and engagement with fans!  People can take pictures of their finished meals and tag with #platedpics.  I've done this twice and Plated has never failed to send along a like and a comment!
Conclusion
I love Plated.  They make me feel like a capable, real adult who can cook.  Here's to faking it until we make it!
Try Plated by clicking here!
Please subscribe!
If you enjoy our content, please consider subscribing to our site via the form in the bottom footer of this page or the top of the left sidebar. We really appreciate your support and engagement, and value any feedback immensely. If you subscribe, you will be notified once a new review is published. No spam. We promise.
JUDGMENT TIME
Functionality

Innovative-ness

Shark Worthy-ness
Summary
Try Plated if you want to feel like the real deal–chef-wise!
If you've also tried Plated, submit your rating below or leave a comment!