L-Theanine and Caffeine: Wake Up Your Brain!
Note: If you are unfamiliar with nootropics, please read this brief introduction to nootropics before this review.
What kind of nootropic if L-theanine?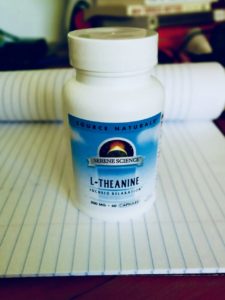 L-theanine is an amino acid that is commonly found in green tea and was first derived by some Japanese dude (no less) from said tea. It is the crucial element in the drink that gives it the well-known relaxing and calming effect, despite the caffeine content in green tea. Although there have been no large-scale studies involving L-theanine itself, many individuals use it as a supplement to reduce anxiety and stress, and to promote relaxation. Like Phenibut, L-theanine is able to cross the blood brain barrier, although from personal experience I don't think the effect itself is as noticeable as Phenibut, if there is any significant effect at all.
Why combine L-theanine with caffeine?
The combination of L-theanine and caffeine is probably one of the most underrated nootropic stacks (i.e., taking different types of nootropics together) that I am aware of. What L-theanine is able to do is astounding. And its combination with caffeine creates the most synergistic effect that is almost heavenly. The amino acid is able to level out the anxiety producing effects of caffeine, which results in a smooth caffeinated experience for the individual. It's like Adderall, but better. In fact, studies have shown that the increased cognitive enhancing effects that Adderall users feel are merely placebo. On the other hand, numerous studies like this one have shown that L-theanine and caffeine do indeed produce a synergistic effect that increases memory, focus, attention, and mood–just to name a few. These findings have been repeatedly replicated too, which is important for science. Go science!
My experience and considerations
During my junior year in college, I took L-theanine and caffeine quite a bit when I could no longer avoid early morning responsibilities and was forced/required to take a 9:35 am class (I know, fucking early right?!). No but really, I am the epitome of a night owl, so the struggle was more than real. I usually took a 2:1 L-theanine to caffeine ratio, although if you have a high tolerance to caffeine I'd recommend a 1:1 ratio. See below in the "conclusion" section for recommendations on which brands to buy from. To keep it short and sweet, the almost daily morning combo of L-theanine and caffeine for me was a god send. Here's what I experienced in a nutshell:
• No jitters or anxiety: I felt the great pick-me-up and wakefulness feeling that caffeine commonly produces, without the jitters, anxiety, or teeth clenching. I don't know why, but caffeine sometimes makes me clench and grind my teeth. It's quite uncomfortable and probably unbecoming to those who notice.
• Increased ability to focus: Although it was an early morning class, I was able to focus with ease. Not only that, I was able to maintain my focus, which was difficult when I was and am still basically Snorlax. Also, I noticed that I was more engaged during class and asked a lot more questions than usual.
• Increased motivation: After class, I could easily motivate myself to get my work done and out of the way immediately after said class. No problemo.
• Better mood: Although caffeine already has mood-enhancing properties, I felt as if the L-theanine enhanced caffeine's mood-enhancing properties even MORE. I'm sure this was due to the anxiety reducing properties of the theanine, so I basically felt all the positives of caffeine and none of the negatives.
• Long duration: The effects of L-theanine and caffeine lasted around 4+ hours for me. In other words, I felt like I got my money's worth. I rarely ever re-dosed.
Conclusion

I highly recommend L-theanine in combination with caffeine. I still take it occasionally when I need to get a lot of work done, or when I just need an extra boost or some laser sharp focus for the day.
I've tried many different brands for L-theanine, and ultimately I'd recommend Natural Factors Suntheanine or Source Naturals.
As for caffeine, I'd advise to either buy it in powder or pill form, so you can obtain a precise measurement of exactly how much you're consuming. I personally like Jet Alert caffeine tablets because they come in 100 mg pills and I don't like the feeling of consuming the standard 200mg pills at once.
Please subscribe!
If you enjoy our content, please consider subscribing to our site via the form in the bottom footer of this page or the top of the left sidebar. We really appreciate your support and engagement, and value any feedback immensely. If you subscribe, you will be notified once a new review is published. No spam. We promise.
JUDGMENT TIME
Functionality

Consistency
Summary
Hey college students–forget Adderall, go for L-theanine and caffeine! Try it out, methinks you'll like the results.
If you've tried L-theanine + Caffeine, submit your rating below or leave a comment!