Class 302: Go for the Decor, Stay for the Shaved Snow (Rowland Heights, CA)
Class 302 Is…A Restaurant?!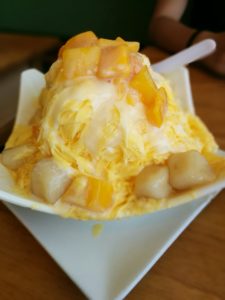 Class 302 is a Taiwanese eatery that is most well known for its desserts–particularly their shaved snow. The decor of the place is quite cute, and is decorated in such a way as to represent a Taiwanese classroom. The tables are wooden, there's an old-school chalkboard that features a bunch of random Chinese characters (or maybe they actually mean something; I can't read Chinese), and hoisted up on the walls are old fashioned classroom materials like workbooks and whatnot. What's actually cool about the classroom materials is that I recognize some from when I used to be forced to attend Chinese school as a young'un!
My Taiwanese classroom experience
On a hot summer day, my sister and I came here for some shaved snow. No food, just snow. Class 302 was POPPIN' as we walked in. Like any old traditional Asian restaurant, we were promptly ignored for a few minutes before the man at the front bluntly inquired, "HOW MENNNY?!" I indicated two with a peace sign and he replied, "20 MINUTES." We then received a ticket and then waited outside in the scorching sun. Oh yeah, one thing I forgot to mention is that Class 302 is so tiny that there is absolutely no room to wait inside, let alone room to meander around. I'm actually very skeptical as to whether they pass fire safety standards, despite their A grade status. Here's what we ordered:
• Mango Shaved Snow (pictured above): Delicious! Perfect for a sweltering day. The snow was not too sweet, the flavor was mango-y, and the texture was just incredible, almost ineffable in fact. It's like shaved ice, but not exactly. It melts in your mouth and is just sublime. This particular order came with mangoes, mochi, egg pudding, and condensed milk as toppings. All were excellent, save for the mochi. They were too big and too chewy for my taste.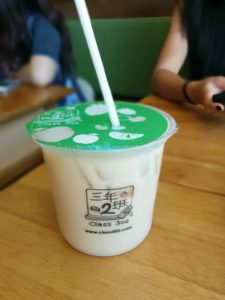 • Jasmine Green Milk Tea: It's hard to be really judge-y with milk tea drinks in my opinion, so I'll just say I thought my drink was made quite well. I ordered it with half sugar, per usual (for me). I could tell that they used real milk instead of powdered milk to make the drink, which is a definite plus.
Conclusion
Though I can't say much about the actual food, what I can say is that Class 302 is a perfect place to grab a delicious cold shaved snow an a sizzling summer day. Or any day for that matter. LA weekly even touted Class 302 as having the best shaved ice in Los Angeles!
Please subscribe!
If you enjoy our content, please consider subscribing to our site via the form in the bottom footer of this page or the top of the left sidebar. We really appreciate your support and engagement, and value any feedback immensely. If you subscribe, you will be notified once a new review is published. No spam. We promise.
JUDGMENT TIME
Summary
If you can get past the typical Asian service, you shall be rewarded with delicious shaved snow of all sorts of flavors!
If you've tried Class 302, leave a rating below or comment!