New York City's Ivan Ramen is Thoroughly Mediocre
Who's Ramen? Ivan Ramen.
Burrowed deep within the cute, hipster-y part of the Lower East Side, Ivan Ramen screams "Hey, look here! We're cool" at passersby, what with its sleek looking storefront and obviously millennial-targeting pop art decor. The small shop was opened surprisingly by–*drumroll please*–a white dude. Ivan Orkan, to be exact, whom Eater claims to be "one of the best ramen makers on the planet" and who was featured prominently on Netflix's Chef's Table. He's also opened two original flagship ramen restaurants in Tokyo. Respect.
Confession: I've yet to see said episode of Chef's Table, but its mere existence definitely played a role in prompting me to visit Ivan Ramen.
How's The Ambience?
In a word: ultra-hip. Come to think of it, it's actually not that surprising that Ivan Ramen was borne out of a white man's brain, because the decor is simply too cool and too with it in an American sense to have been conceived by an immigrant. The restaurant is small even by New York standards, I think. There's a white-wall, well-lit eating area as you walk in that includes your standard countertop for solo diners, which ends with a cute little outdoor patio, where yours truly dined with the finest and sweatiest (summertime in The City).
As mentioned, the walls are adorned with super trendy artwork that would aptly be referred to by your modern day Brooklynite as "Dope." Lots of traditional Japanese art with a colorful and somewhat psychedelic twist scream at you while you traverse the eatery. I wish I had taken some more pictures of the indoor art so I could more accurately describe it all, but unfortunately I'm relying on memory. Colorful yellow- and red-heavy Japanese cartoons line the space directly and above the countertop. Outside, the art continues, with a tile-y mosaic mural of land and sea creatures that plasters the walls. Hello fishies. Hello octopus. Hello random pig.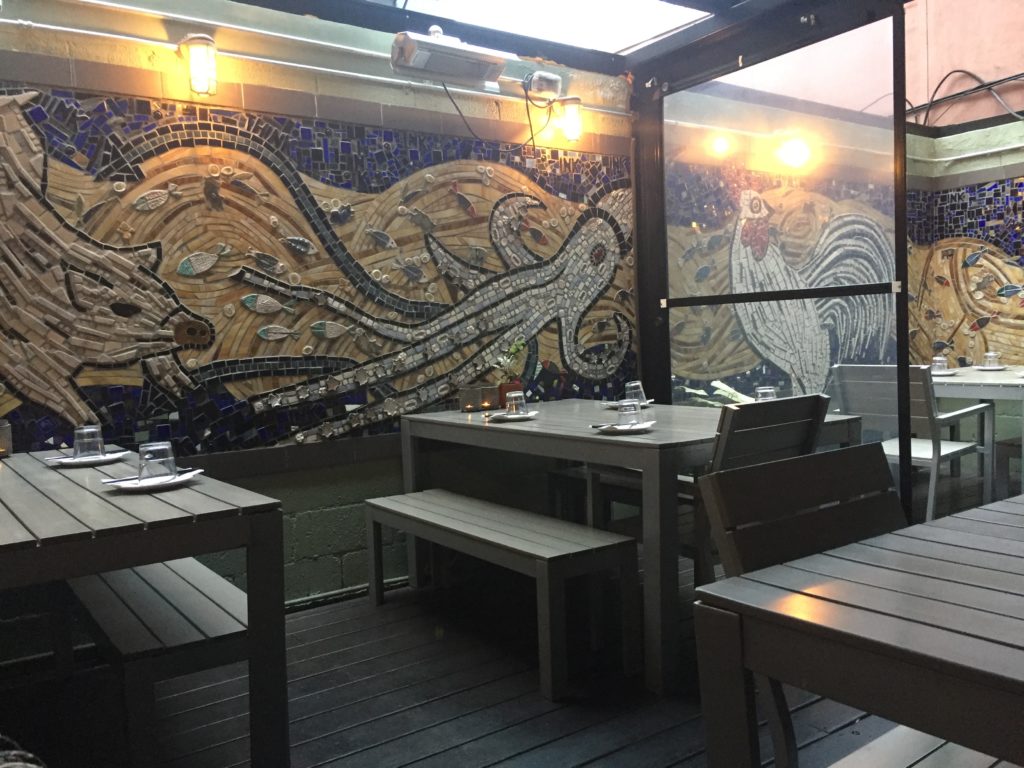 What She Order?
Not a Fish Filet (HAH (I'm embarrassed by myself)). I ordered the Chicken Paitan, which boasts "rich chicken broth, minced chicken, egg yolk, shio kombu, [and] rye noodles." And to wash it down, a delicious Ramune Lychee Soda.
The dish came well-assembled. The proportions–strong. The egg yolk that came atop particularly delighted me. I do think presentation is a very important part of serving ramen, so major thumbs up on that front.
While my eyes were impressed, my taste buds were not so much.


I'm a noodle lover through and through, so I'd like to think I'm pretty well-versed when it comes to ramen. I've had my fair share and I'd have to don Shin Sen Gumi as one of my favorite and most reliable ramen shops. I prefer my ramen light but flavorful, which may be the reason I'm not an instant fan of Ivan Ramen.
Frankly speaking, while the egg yolk added a nice touch and texture, the dish overall was too oily and salty for my taste. I think that if I had taken my spoon and dragged it lightly across the top border of the soup, I would've come away with a literal spoonful of oil. I totally wish I had tried that now. Essentially, I had no desire to drink the broth, which is often the climax of the experience that is eating ramen. And I didn't. I just ate the noodles and watched the thick, oily broth sit there as virtual anime tears rolled down my eyes.
Additionally, I wasn't taken to, as Guy Fieri would put it, Flavortown. Thinking back, I can only describe the dish as salty. Salty, with a hint of chicken. The chicken was nice, but nothing to write home about. The sweet corn played a slight role in balancing out the intense saltiness of the noodles and soup, but I had to pay like $3 extra just for that privilege. Jeez.
My Considerations.
Overpriced: My ramen was $19 and my lychee ramune soda was $4, totally a whopping $23. It may be the Californian in me, but I'm not comfortable paying anything over $12 for some noodles in brothy soup. Even if we were paying a premium to eat something that was featured on Chef's Table or whatever, it still wouldn't feel worth it to me.
Too Salty: I know I keep saying it, but everything was salty as fuck. Food being too salty is a major gripe of mine because it takes so much salt to oversalt something. For hours after I left the restaurant I felt like a raisin – dried up and dehydrated.
Cool Date Spot: Admittedly, Ivan Ramen is definitely the spot to be if you're looking to impress. Much of this has to do with the ambience and cool artwork, but also the people. What I mean is–the people who work there must be well-paid. What I mean by that is–I really enjoyed the friendly banter I was able to achieve with the hostess (lady) and server (guy).
Verdict.
If your date doesn't know anything about good ramen, take them here. Otherwise, opt for someplace else with a lower overall sodium content.
Please subscribe!
If you enjoy our content, please consider subscribing to our site via the form in the bottom footer of this page or the top of the left sidebar. We really appreciate your support and engagement, and value any feedback immensely. If you subscribe, you will be notified once a new review is published. No spam. We promise.
JUDGMENT TIME
Summary
Ivan Ramen in Lower East Side, New York is a good date spot, but not much more.
If you've also tried Ivan Ramen, submit a rating below or comment!